Reputation
Q
What's the greatest challenge for the Direct Sales Industry?
"
The box that it's put into… the way culture looks at direct selling with a critical eye. It's sales direct to the consumer offering personal solutions to a problem. It's relational & personal & we want to serve. We don't want to be mis-represented."
"
Overcoming the stigma of MLM."
"
People thinking it's a pyramid scheme or they have a bad taste about MLM's"
"
So many DS companies just get a bad name & people are scared to join"
"
The stigma against MLMs. That stops a lot of people before they start."
"
Legitimize the channel. It shouldn't be treated as though there is a stigma."
Overview
In the 2022 Direct Sales Trends survey there wasn't a single question about the reputation of direct sales and how it impacted the industry. Yet, in response to questions about industry challenges and the major roadblocks for 2022, an incredible proportion of responses referenced the industry's reputation as the number one factor limiting both field and corporate success.
The reputation of the direct sales industry is affecting the field, corporate and customers at every level. In 2022 and beyond, companies have an opportunity to demonstrate that they are the "new generation of social selling organizations". A generation that focuses on people, takes care of their field and sets them up for success from day 1 with an amazing support system founded on education, diversity and empathy. First movers in this space will not only create a new perception of the direct sales industry as a whole, but will also have a major competitive advantage.
How did we get here?
Reputation isn't a new theme. Damaging outdated perceptions based on past bad players and events, is something every person connected with the industry is aware of. Unfortunately some of these old issues were exacerbated by COVID-related developments.
These historical reputation challenges can be grouped into two main camps:
Fraudulent companies building out their business as a pyramid scheme under the umbrella of the multi-level-marketing model and taking advantage of their consultants in a highly distributed field model.
Over-reliance on commission structures as a motivating factor for the field. With less focus on onboarding, character and skills building and continuous learning necessary for running a successful business by new consultants. Resulting in low success rate, higher churn rates and perpetuating the stigma of the industry.
COVID has uncovered negative instances within the industry for people to focus on and the rise in objections towards the business model has raised concerns at all levels of the industry. However, instead of reactively fire-fighting the negative impact, it can be viewed as an incredible opportunity to pro-actively alter the general public's perception of direct sales for good. To distinguish the industry as a new generation that is completely separate from the outdated view that is perpetuated by a few rogue operators.
Before looking at how to make this shift, let's review some of the damaging events of 2021:
1. Misinformation
Misleading COVID statements
Sharing unsubstantiated claims presents a challenge both for consultants and companies. On one side, complicated regulations make it incredibly hard for consultants to craft messaging about product benefits. On the other, controlling claims is an operational challenge many corporate teams are trying to solve with both technology and educational programs.
When COVID began, some sellers started claiming that their products could help fight off the virus. Much of this misinformation was posted online and is now shared frequently via YouTube, Instagram and TikTok reaction videos. 'Taking XXX boosts my immune system so I don't need the vaccine.' Even if it came from a well-intentioned space it casts a negative light on the whole industry. COVID exacerbated the impact of the spread of misinformation because COVID affected and continues to affect everyone and elicits a great deal of attention online.
2. Spam messaging
Abusing social media reach: TikTok ban and dating sites
The increase in access to tools for automating work, largely due to the increase in demand for working from home tools, meant a rise in spam messaging from the field. Countless social media users screenshot and shared the unsolicited, spam messages they received from sellers.
In reaction to an influx in spam messaging and fraudulent behaviour, December 2020, TikTok banned any MLM advertising from the platform bringing a fresh wave of hate towards the community which rolled over into the start of 2021.
As companies start looking at expanding into Gen Z, the upcoming generation, losing TikTok is a concern.
Elsewhere on the internet, as limits were imposed on meeting in person throughout 2021 there was a rise in people using dating sites to connect with new people to share information about their products and the business opportunity. This gross misuse of dating platforms garnered great criticism from users.
All this, combined with the COVID misinformation, caused a significant increase in online distrust towards the direct sales community.
3. Pyramid schemes media investigations
LulaRich Documentary
First aired September 10, 2021. This may not be the first documentary to look inside MLMs but it's one of the first to go viral. The effects of Amazon Prime's LulaRich Documentary are not to be underestimated.
Countless leaders are being faced with questions from their team about the documentary asking if their company is 'the same'. There's even been a direct correlation between field members watching LulaRich and deciding to stop building a team because of the comparison's drawn in the documentary.
As the world starts to recover from the pandemic and looks towards the future, the direct sales industry has the perfect opportunity to implement changes from the ground up that will radically alter the way in which the public interacts with direct sales organizations. It's time for companies to introduce themselves as the new generation of social selling.
New generation of social selling organizations
Prioritize the Field
Unparalleled customer experience is the USP of many direct sales companies. But, as the majority of brand interactions the end customer has are created by consultants in the field, to guarantee an incredible customer experience companies need to ensure that every consultant is set up for success from day one.
To achieve this, there needs to be an immediate focus on the field. The quality of consultant interactions, their market presence and their belief in the purpose of their organization really determines your end customer's experience. To ensure that customers truly get the best experience and customer care, companies need to focus on training the field to better communicate the brand's vision.
To guarantee customer experience excellence – the field must be empowered to give the best customer experience possible.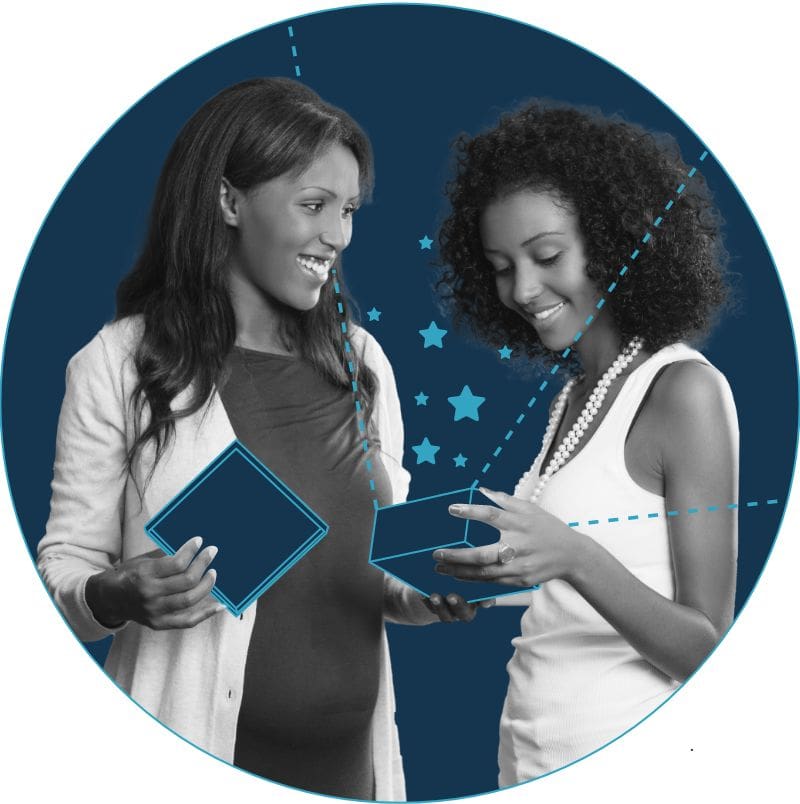 Check out the sections on Onboarding and Continuous Learning & Development to see how using e-learning to train the field from day 1 and then nurturing them through their journey as a consultant will lead to increased productivity, revenue and retention.
Marketing & Branding
In the last two years industry statistics show an overall increase in both revenue and consultant growth. These numbers are largely driven by a few key organizations that have successfully evolved some of the "old practices" of direct sales and created an environment of trust that spans from corporate to the field to customers. They've navigated away from the stigma associated with direct sales and been recognised for all the incredible opportunities this business model creates.
For example, one makeup brand has made direct sales a popular option with people actively seeking out the opportunity to work with the company. Yet for other businesses, other brands, selling very similar products in the exact same format, marketing to a very similar demographic — the public perception couldn't be more different.
Marketing teams need to be given the time and scope to uncover WHERE their marketing efforts need to be bolstered.
From analysing the companies that are successful in positioning themselves as this "new generation of social sales", it's clear that the number one reason is because all of their stakeholders hold the same high opinion of the company. From top to bottom every stakeholder believes that the company is working for good and providing the best experience for staff, sellers and customers alike.
When your target audience, your sellers, your customers, the press and public opinion all believe in the brand and support corporate initiatives then the knock on effect for revenue and business growth is tangible.
Invest the time to find where the chink in the chain is for your brand communication.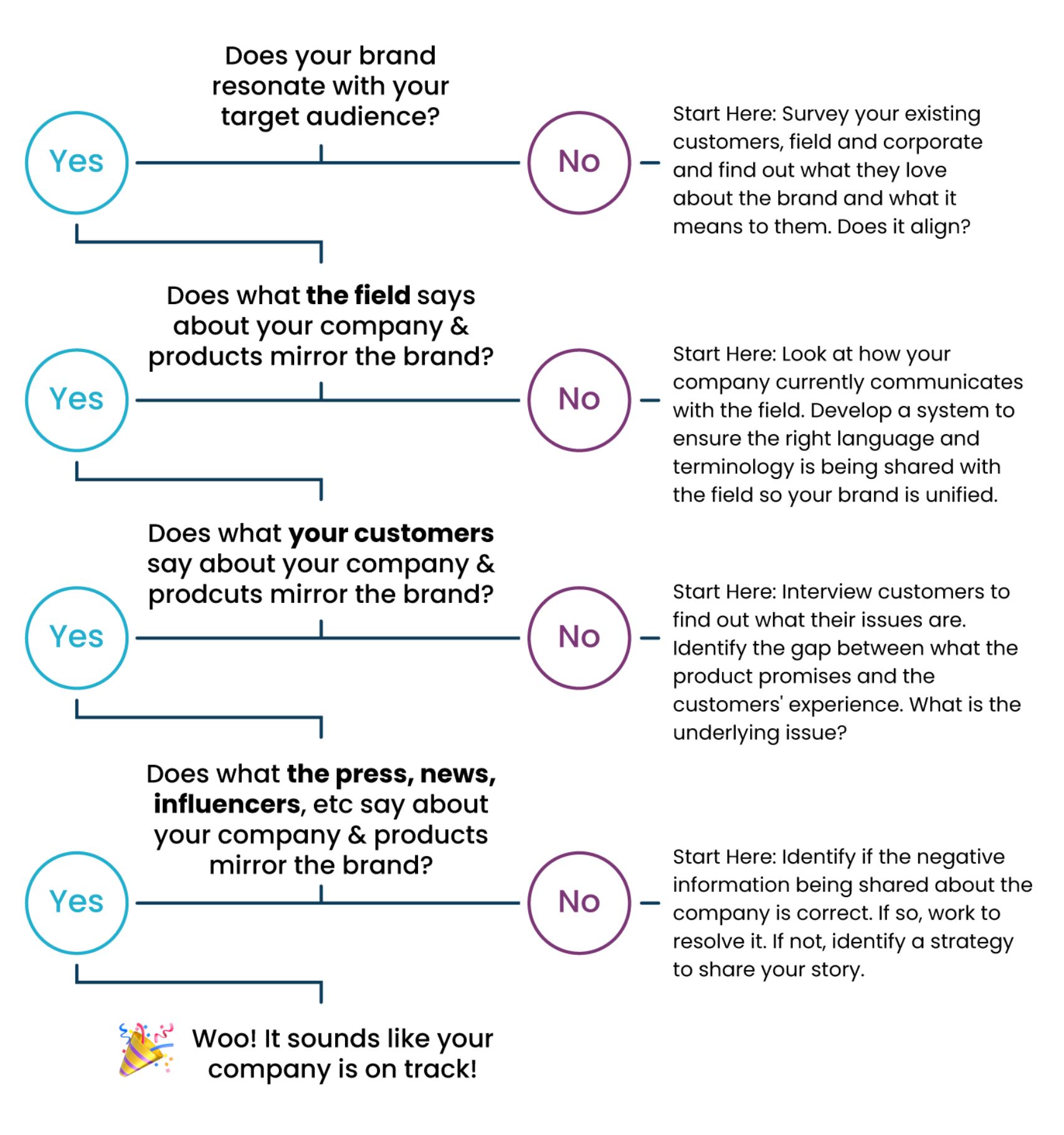 Compliance & Regulation
Compliance is the biggest factor facing ALL Direct Selling companies right now.
How can Compliance & Regulation be pivotal to reputation?
In Charles Duhigg's book The Power of Habit he attempts to unlock the power of productivity by learning the secrets of those who are incredibly productive.
The book is made up of a series of anecdotes alongside the psychological explanation of how habits create change. In one such anecdote Duhigg desbries how Aloca, the world's eighth largest producer of aluminum, 5X their profit over a CEO's tenure all because he prioritised one simple thing… Health & Safety.
CEO, Paul O'Neill, told his investors, his leadership team, his warehouse staff, everyone… that the number one priority, the number one metric to track was workforce safety. He empowered every individual to come forward if they witnessed something detrimental to workplace safety and reporting managers had a narrow window in which it was mandatory for them to bring the concern or breach to the leadership team. Instead of dismissing concerns or brushing them off, everyone was empowered to make change.
To some companies, this might seem like a nice thing to have but not the core focus. Yet, over time, this unwavering focus on worker safety paid off, yielding greater productivity, thus improving product quality, in turn reducing costs and ultimately increasing sales.
What CEO Paul O'Neill achieved is the stuff of legends. Whether knowingly or not he rewired his company's keystone habit. (A habit which defines how you run your life or your business.) And the only way to achieve real, sustainable, long-lasting change is to alter your keystone habits.
The question is, then, What keystone habit could change the future of direct sales?
When reading about Aloca's example, it begs the question, what if every seller was responsible for the spread of misinformation? If the environment was a culture of education, empowerment and improvement, and every direct seller was responsible for reporting bad practices within their team to corporate about misinformation, misleading claims, misuse of social media platforms etc. And the people who reported these incidents are rewarded, and the people who made the infringement are met with education and professional development support, then how quickly would the direct sales industry remove many of the bad practices that cast a shadow upon the industry?
Compliance is more often met with groans than enthusiasm. But, if you made it so that compliance was key for every single direct seller, in fact it was the most important part of their job, protecting the reputation of their company and for doing so they would be rewarded… then compliance could rapidly become the unifying factor for all teams, leaders, sellers, customers and corporate alike.
Commitment to a Greater Cause
Many successful direct sales companies are doing this already. Aligning with charities and initiatives that complement their brand values and vision for a better world. Sustainability is a great example — with companies evolving their processes to become more environmentally friendly and others making commitments to be waste-free by 2025.
Committing to something more has the power to reshape a company's identity and attract people not only to the products but to a common belief in a greater cause. From attracting a younger socially responsible generation of sellers, to increasing field satisfaction, to aligning with customer values — doing good is good for business.
88% of Americans are more willing to forgive a company for making a mistake if it genuinely tries to change and 73% say they are less likely to cancel a company if it is Purpose-driven.
Americans are likely to cancel a company if it says or does something offensive when addressing the following issues: 70% Racial justice, 69% Women's rights, 68% COVID-19 protocols, 61% Immigration, 57% Climate change/environment, 57% LGBTQ+, 57% Religion and 54% Politics.
Engage for Good – Porter Novelli's 2021 Business of Cancel Culture Study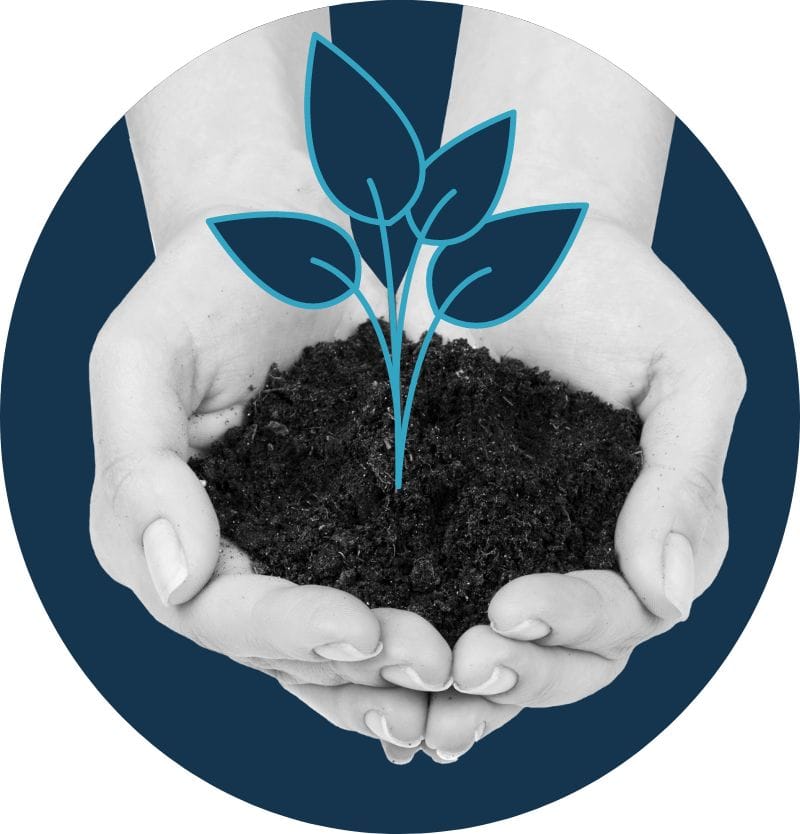 Data Analysis
It was incredible to see how many respondents brought up reputation unprompted in response to questions around the "biggest challenges" they were facing in direct sales.
Analyzing the Field responses to 'What is your biggest challenge in selling your product?' and 'What is your biggest challenge in adding new team members?' the aim was to identify if the training requirements for social selling was different for those focusing on customers or those focusing on building a team.
While compiling this data and analyzing responses, a clear trend started to emerge.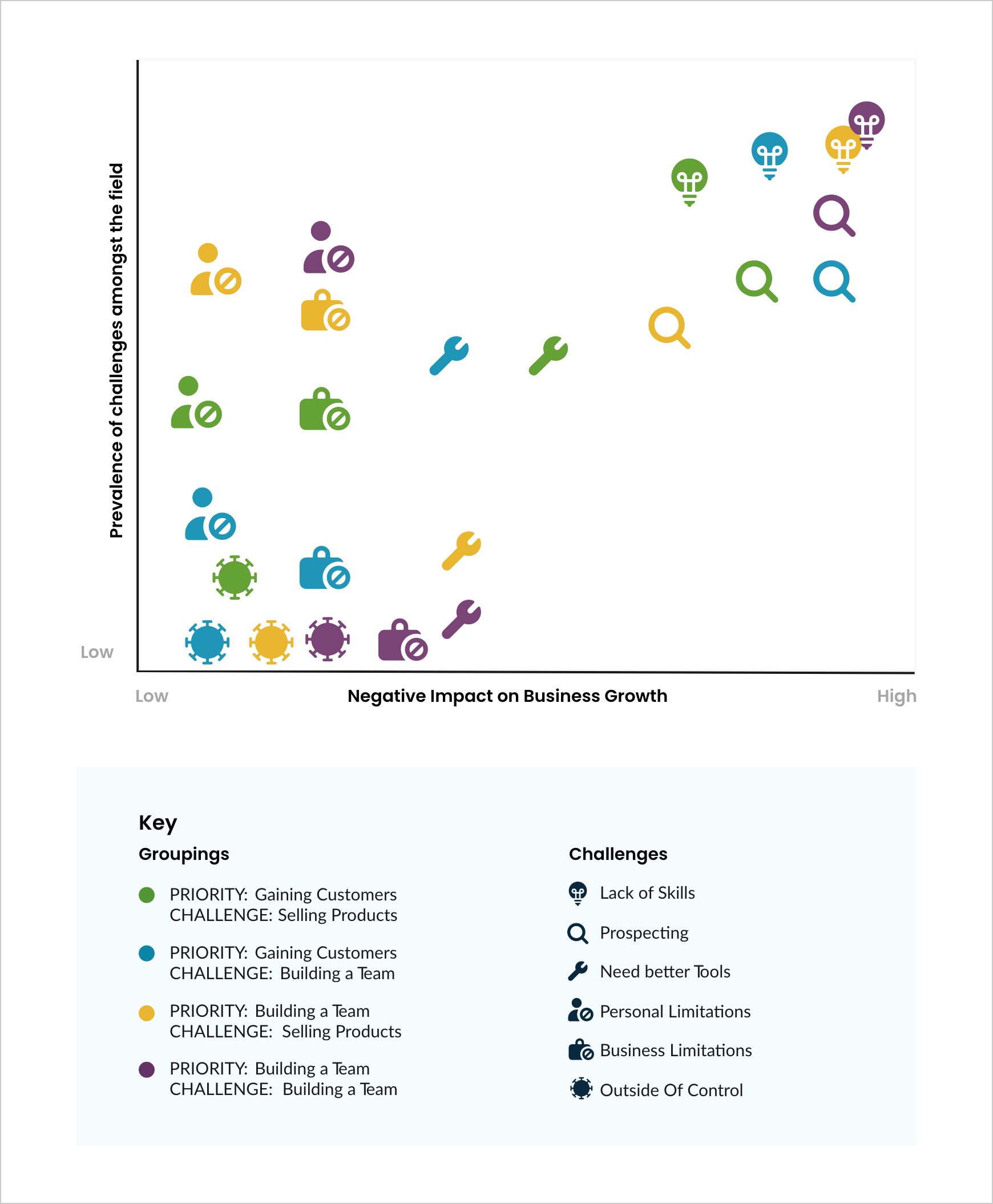 One of the categories we grouped challenges into was 'Prospecting'.
Our data analysis showed that customer behaviour with social sellers has changed. Customers no longer engage or buy in the same way. They demand a personalized experience. One that's timely and authentic, and customers choose to vote with their dollars when that experience is underwhelming.
For a seller starting their business with little understanding of sales and marketing, the ability to develop social selling skills and build an audience for their business is not an easy undertaking. They are frustrated, confused and often vent their discouragement on customers and prospects as a result.
One response in the Corporate survey summed up this general feeling from Corporate –
I would like to see an increase in influencer style marketing and selling. The biggest concern for the channel as a whole is the bad reputation, and teaching the field how to truly socially sell and recruit would drastically reduce the instances of customer's feeling pressured to join a company.
The model the industry is working towards as it becomes the New Generation of Social Sellers will be cyclical with each component empowering the other and continuously improving.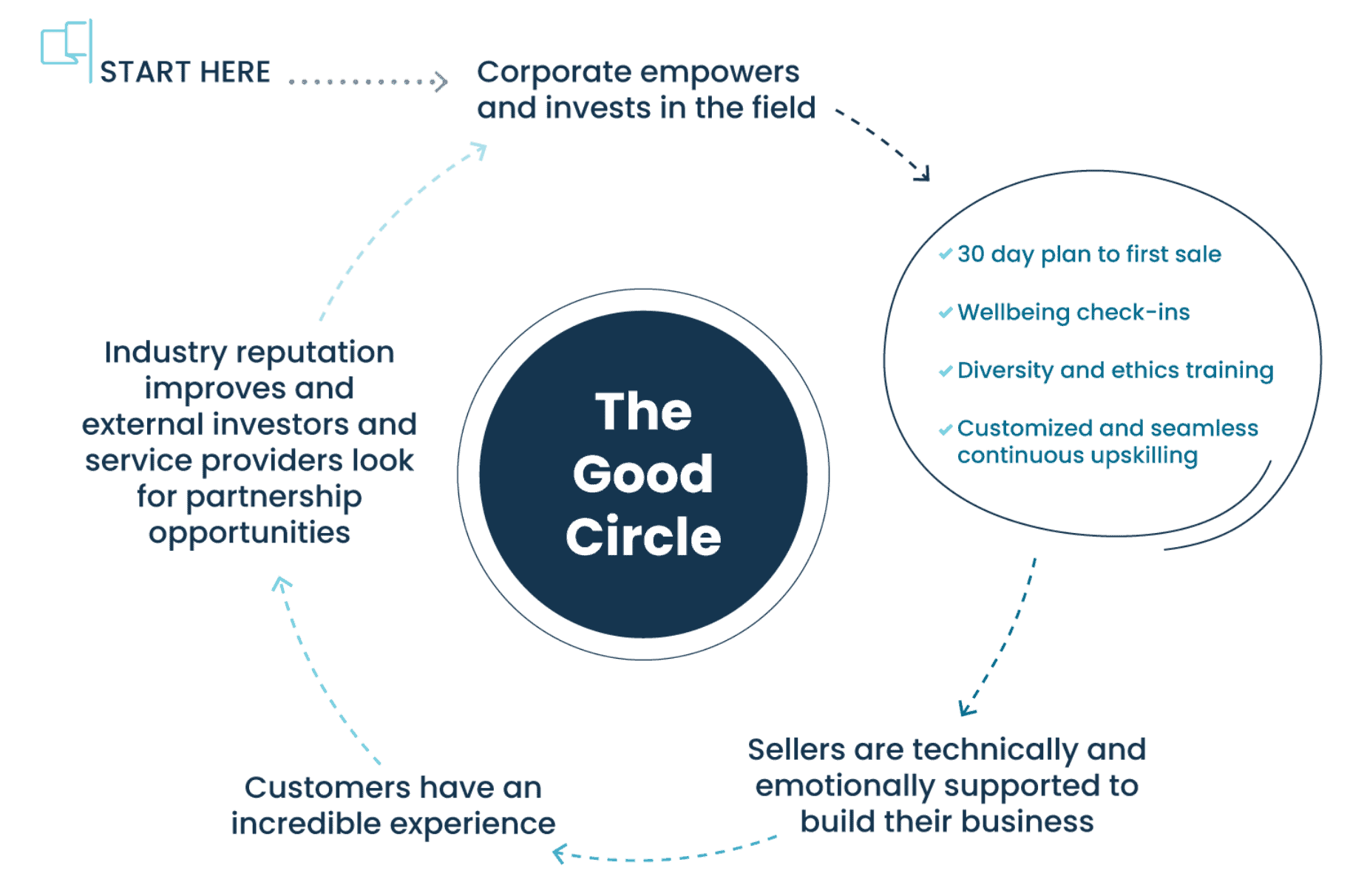 Expert/Leader Perspective
An Incredible Opportunity for Disruption
One's ability to succeed and grow a career is at the core of the negative beliefs about direct sales. What an opportunity for disruption — creating an industry that is known as a business master class for entrepreneurs, an academy for success in social sales, advocating for balance, family and wellbeing.
A new generation of direct sales organizations will train and grow their people so that they can work and succeed anywhere but treat them so well that they never want to leave.
The Direct Sales Industry has changed for good. But how do we keep this momentum going?
Our industry is so different than 2 years ago! And I don't see it going back to the way it was "before". Wine Guides (Consultants/Representatives of DS companies) and people in other industries want to find meaning in their work. They want to make a difference and they want to be seen and appreciated for those efforts.
I love that DS gives us an opportunity to find our passion and our purpose without limitations. It's all on US to use the tools our company provides for us and make an impact. Which is a double-edged sword, right? No one is going to tell you what to do on a daily basis or make you work. We're not "employees".
And that brings us to Penny. Penny AI guides us in making our daily tasks so we can focus on the tasks that matter the most. The connections with people.
Another big trend (threat/opportunity?) I see is in the supply chain. Our customers are experiencing and frustrated with shortages or the inability to find their favorite items in stores. We may experience delays or shortages of certain products as well. Where we differ from other product providers is that we have a personal connection with our customers. Penny allows us to stay in contact, build relationships, and provide customers with information or suggestions for products they may love, based on knowing them on a more personal level. That is certainly something Penny helps facilitate (and something you won't find at big box stores or websites)!
Conclusion
2022 is the year to start changing the perception of direct sales as an industry — the momentum is there ripe for capitalization.
The social selling dynamic, a people-first focus, tightened regulations and digital onboarding growth — all provide the opportunity to define the next generation of direct sales organizations. Which will have a dramatic impact on expanding the field, accelerating seller success, reducing consultant churn and increasing field satisfaction and productivity as a whole. Aligning strategic priorities to take advantage of the major societal and technology trends will create profitability and long term success.
For corporate
By evolving the industry through digital transformation and a focus on quality social selling techniques, the reputation of direct sales will change how people see the business model and industry entirely. From a growth perspective, corporate will have greater access to top talent looking to join digital disruptors and more companies will be looking to see how they can partner with specific companies. As the reputation improves, the shift in public perception towards direct sales brands will increase revenue as sellers will have less boundaries when connecting to customers and can communicate the vision and growth of the social selling industry.
For the Field
Working with the field to improve the reputation of the industry will massively impact sellers revenue and efficiency. By empowering the field to improve their business skills, they'll be set up for success from day 1. Incorporating social media skills, wellbeing check ins, company updates and consistency based rewards will enhance loyalty while delivering greater business success for every seller.
Customers
By supporting the field's professional development, customers will receive exceptional customer experiences every time. Even before a customer meets a seller they will be seeking out your brand with positivity and confidence.
Industry Reputation
Capitalize on the momentum of social selling by focusing on seller training and enablement so the industry reputation is rewritten by a new generation of social selling companies.