Social
Selling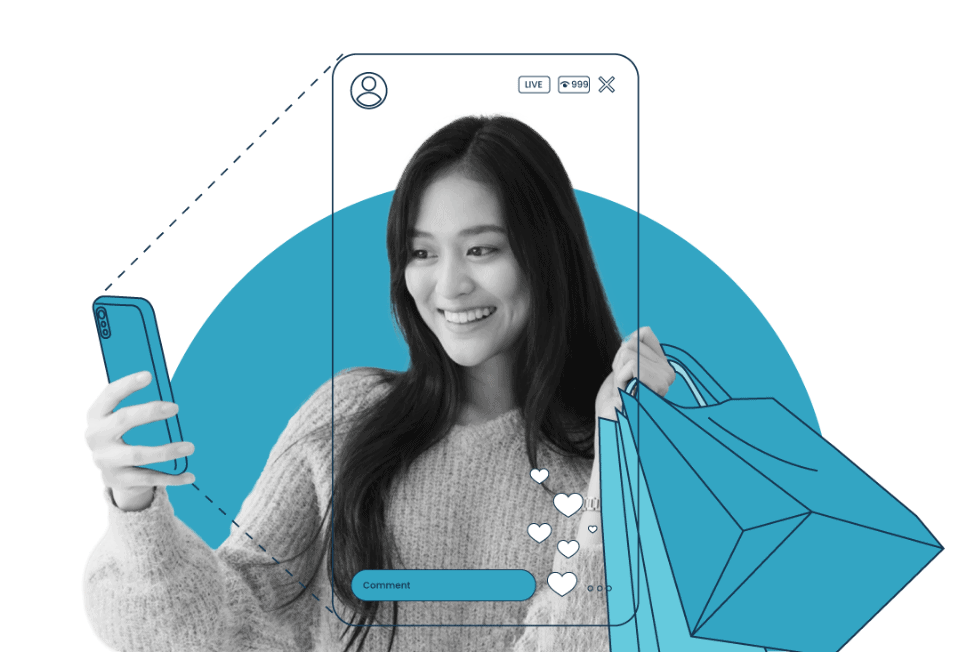 Q
If you could change one thing about direct sales, what would it be? Why?
"
Perception. I do not believe direct sales companies need to be differentiated as a niche business. We are social, we service our customer base and fans, and, we sell products that make a difference. This is the same as any business that doesn't drag along a stigma for over 100 years. So, why do we keep talking about something in a way that"
"
Collaborate more to share best practices among companies. Also, to be quicker to implement solutions that will modernize the industry and put extra effort from companies to help the field adopt new tools."
"
I would like to see an increase in influencer style marketing and selling. The biggest concern for the channel as a whole is the bad reputation, and teaching the field how to truly socially sell and recruit would drastically reduce the instances of customer's feeling pressured to join a company."
"
To really educate people that we are not a pyramid scheme. So many people really don't understand what direct sales really is. There have been so many scams that they just don't understand the difference from a pyramid and a direct sales company."
Overview
Social Selling is becoming a buzzword in the industry, and is being applied to a wide range of business models and strategies. So let's start with some definitions.
Social commerce[1] is a subset of electronic commerce that involves social media and online media that supports social interaction, and user contributions to assist online buying and selling of products and services.[2]
More succinctly, social commerce is the use of social network(s) in the context of e-commerce transactions.
What actually is Social Selling?
Today, social selling goes way beyond a seller communicating with customers over social media. The sales process is undergoing a paradigm shift. The focus is shifting from a brand and product at the core of a sales process, to the seller, their beliefs and their life.
The fundamental ownership of the customer relationships has gone through a number of evolutions — from a physical store location where the customer experience was carefully crafted and full time on-site employees built custom relationships, to digital store fronts and e-commerce where the online experience and seamless logistics influenced sales and customer behaviour.
In both cases, the company controlled how the brand is represented, trained sales teams and support personnel, controlled the narrative and owned customer relationships. But now, the way people buy has changed. Once again people are buying from people, the ones they know and trust through social channels from around the world. And direct sales is ready with a globally distributed sales force of influencers, affiliate sellers and direct sellers to capitalize on this consumer mindset shift.
This shift introduces multiple challenges and opportunities to organizations that want to leapfrog competition and take advantage of the social commerce evolution. While the focus on customer experience has always been a key driver for corporate teams, now the path to that experience is through a careful balance of brand purpose, seller reach and influence on social channels.
The science behind Social Selling was first noted at the University of British Columbia. While conducting research they realized that if the buyer and seller shared something in common then it was more likely that a sale would take place. This concept isn't new to the world of sales but it does explain why some people tend to be more successful at selling on social media than others. What's interesting is, it's not necessarily intuitive to a traditional sales process. Once again the focus is shifting from the product, to a personal connection that is being developed at scale via multiple social channels.
What does Social Selling mean for Direct Sales?
Personal connection and developing relationships through common interests has alway been at the very core of the direct sales model. Many direct sellers and network marketers were already running successful businesses by building strong personal ties and it was only natural to extend it via social channels.
Social selling is an extension of what was inherently at the heart of direct sales success — outgoing people with a large groups of friends, looking to add a source of income. Social media provided these people with the ability to build personal connections at scale, provided them with a space for conversations, and created visibility into people's lives.
However, the nature of social networks amplified both the strength and weaknesses of social interactions. In many ways it came with the same challenges of network marketing — without focusing on a clear revenue generating strategy it can be a huge time waste. It's full of distractions, it demands constant flow of content and it requires consistency in follow up. For someone new entering the social selling space, there's a danger of spending days on social media without making a single sale. That's why enablement, training and leadership are so important to ensure that future sellers are joining a social selling enterprise that stops them from falling into the social media time-wasting trap.
With Social Commerce in mind? Are your field equipped with the tools, best practices and content to make them successful as social sellers?
Data Analysis
We analyzed over 600 free form responses to get a greater understanding of the challenges direct sellers face on a daily basis. What became evident is a major gap between the learning opportunities sellers were getting (or lack thereof) and what was needed to succeed as a social seller in the direct sales industry.
The self-identified "lack of skills" was evident across multiple disciplines: growing teams, social strategy, sales and marketing abilities and even business mindset to overcome rejection and set backs. However, the number one response was a mix of social media skills and knowing what to say to people (on or off social media).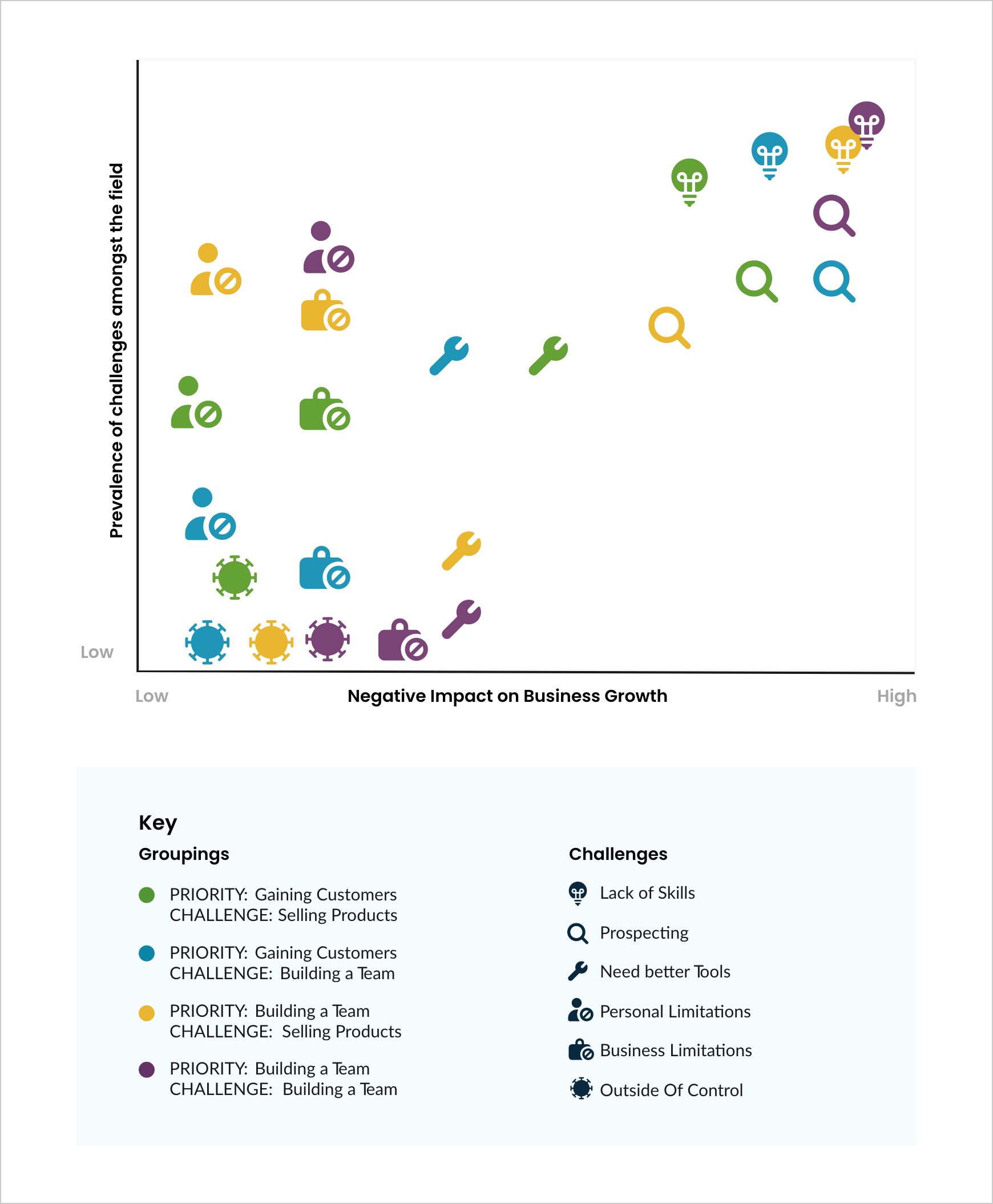 This drove the point that sales enablement alone is just not enough. To support the industry momentum, and to catapult direct sales to being a poster child for social selling success, a multi-prong approach to field enablement is required. Here are the main focus areas:
If Social Selling becomes a priority for Direct Sales what is the knock on effect…
CONTENT
Educational content around social selling best practices and value propositions unique to the company
DELIVERY
Delivery that is timely and relevant to the seller journey, delivering best practices and learning opportunities at exactly the right time
FORMAT
A learning format that is optimized for a direct sales environment and sellers that have families, other employment and responsibilities. The content has to be delivered in a way that is optimal for busy entrepreneurs to learn and retain the insights
ACTION
Learning has to drive immediate action. Providing just the theory won't cut it in an industry that is constantly evolving and adapting to the way consumers prefer to engage with brands.
Business 101. Marketing, Sales, Accounting. That is the number one thing direct sellers are missing. The industry promises that they'll be independent business owners and expects so much for them without then providing the training.
Social Selling – The catalyst that's revolutionizing direct sales
How people buy is changing and direct sales organizations are at the forefront of this evolution. Having pioneered relationship selling and then social selling, direct sales organizations can turn social commerce into a major competitive advantage attracting new digitally-native sellers and harnessing the power of relationships at scale.
Globally, social media 'word of mouth' is becoming one of the major influencers on buying intent, shared economy and the attractiveness of multiple sources of income. Combined, these factors make direct sales an even more attractive career path than ever before. Taking advantage of this unique time for the direct sales industry will require an unwavering focus on social seller needs, transforming existing platforms and a commitment to creating an exceptional customer experience. Exciting times!
How e-commerce is opening up the direct sales landscape
We're seeing more and more e-commerce retail companies entering the direct sales industry. With the rising costs associated with paid advertising and failing affiliate programs, retailers are turning to direct sales. It's a low-risk, low-cost investment to quickly leverage a sales force of direct sellers to promote their brand to their friends, family and followers.
Many new direct sales companies are avoiding the MLM stigma and focused on building a single-level direct sales program, paying their sales force strictly on selling – not recruiting. This is opening up the direct sales landscape in a new and innovative way.
The changing social media landscape and why it's changing the way we work
The direct sales industry has put much emphasis on using social media to grow our businesses. And rightfully so, it's one the most powerful marketing tools ever.
The downside is many direct sellers now believe they can't achieve success without a large following. The result, instead of focusing on personal connections and daily activity, achieving "Influencer" status (driven by likes, follows, views, and more recently beating the algorithm) has become the primary business goal for many direct sellers.
However, throughout 2020 and 2021, the landscape of social media changed significantly. Not only has it become a negative, overwhelming space for many in our networks, we also realized we don't have control of it.
Social media companies make changes (i.e. to algorithms) or even have outages that can have huge, unwanted implications on our businesses. These recent challenges validated and accelerated a trend that started a few years ago and we'll continue to see in 2022 and beyond. Instead of relying solely on social media platforms for all aspects of our business, we'll see direct sellers:
Using social media to support marketing efforts with less emphasis on churning out content and more emphasis on producing value-add, customer-focused content that better serves their networks
Focusing more on personal connections and consistent activities that actually grow businesses
Seeking out and using better, dedicated tools and technologies built specifically to support direct sellers and their business needs
Conclusion
Social Media has irrevocably changed the way consumers are making purchasing decisions bringing about the next revolution for commerce – Social Commerce. Consumers are once again looking to buy quality products directly from people in their network they trust, with a fully distributed sales force Direct Sales is uniquely placed to capitalize on this shift.
If companies seize this opportunity and transition their processes to digital-first field enablement before other industries have time to adapt, what will be the knock on effect?
For corporate
The potential to reinvent direct sales. If Direct Sales becomes the example by which all other industries look to follow for successful social selling, the mindset shift towards the industry will be revolutionary. More top talent will seek to join and support the digital disruption, more companies will develop tools to support the industry and regulations will be updated in line with the changes.
For the Field
If the field is empowered with the Best Practices, the Content and the Success Metrics needed to implement social selling properly their ability to run their business will exponentially increase. More and more customers are starting to buy online, not from stores, but from individuals. If the Field is equipped to navigate this shift in consumer mindset with the right training and tools they will see greater long term success.
Customers
An incredible experience from start to finish from sellers who have every step of the customer journey down to perfection.
Industry Reputation
The permanence, globality and virality of the internet means the effect of social selling holds the key to permanently change people's perception on direct sales. It will be a group effort and it will take time, but eventually the work of the industry will speak for itself.