What is Social Commerce? And why it's the next big opportunity for Social Selling?
What is Social Commerce? And why it's the next big opportunity for Social Selling?
Social Selling is already a buzzword in the industry and now it's time for another — Social Commerce. Social Commerce is being applied to a wide range of business models and strategies. So let's start with some definitions to unpack what is Social Commerce and then explore how Social Commerce is an incredible opportunity for companies worldwide.
Social commerce[1] is a subset of electronic commerce that involves social media and online media that supports social interaction, and user contributions to assist online buying and selling of products and services.[2]
More succinctly, social commerce is the use of social network(s) in the context of e-commerce transactions.
What is the difference between Social Selling and Social Commerce?
Social Commerce is about sales transactions.
Social Selling is about building relationships and communicating with customers over social media.
Why is Social Commerce challenging E-Commerce?
The sales process is changing. The focus is shifting from a brand and product at the core of a sales process, to the seller, their beliefs and their life.
The fundamental ownership of the customer relationships has gone through a number of evolutions — from a physical store location where the customer experience was carefully crafted and full-time on-site employees built custom relationships, to digital storefronts and e-commerce where the online experience and seamless logistics influenced sales and customer behaviour.
In both cases, the company controlled how the brand is represented, trained sales teams and support personnel, controlled the narrative and owned customer relationships. But now, the way people buy has changed. Once again people are buying from people, the ones they know and trust through social channels from around the world. And social selling is ready with a globally distributed sales force of influencers, affiliate sellers and sellers to capitalize on this consumer mindset shift.
This shift introduces multiple challenges and opportunities to organizations that want to leapfrog the competition and take advantage of the social commerce evolution. While the focus on customer experience has always been a key driver for corporate teams, now the path to that experience is through a careful balance of brand purpose, seller reach and influence on social channels.
Why is Social Selling still so important?
Personal connection and developing relationships through common interests has always been at the core of the direct sales model. Social selling is an extension of what was inherently at the heart of direct sales success — people who are passionate about helping others, looking to add a source of income. Social media provided these people with the ability to build personal connections at scale, provided them with a space for conversations, and created visibility into people's lives.
However, the nature of social networks amplified both the strength and weaknesses of social interactions. In many ways it came with the same challenges as network marketing — without focusing on a clear revenue-generating strategy it can be a huge time waste. It's full of distractions, it demands a constant flow of content and it requires consistency in follow-up. For someone new entering the social selling space, there's a danger of spending days on social media without making a single sale. That's why enablement, training and leadership are so important to ensure that future sellers are joining a social selling enterprise that stops them from falling into the social media time-wasting trap. (Check out the 2022 Direct Sales Trends Report section on the importance of Continuous Learning & Development)
As you prepare for the social commerce revolution, are your field equipped with the tools, best practices and content to make them successful as social sellers?
Take control of your business and smash the glass ceiling with Penny
The virtual assistant built for social selling success. 🚀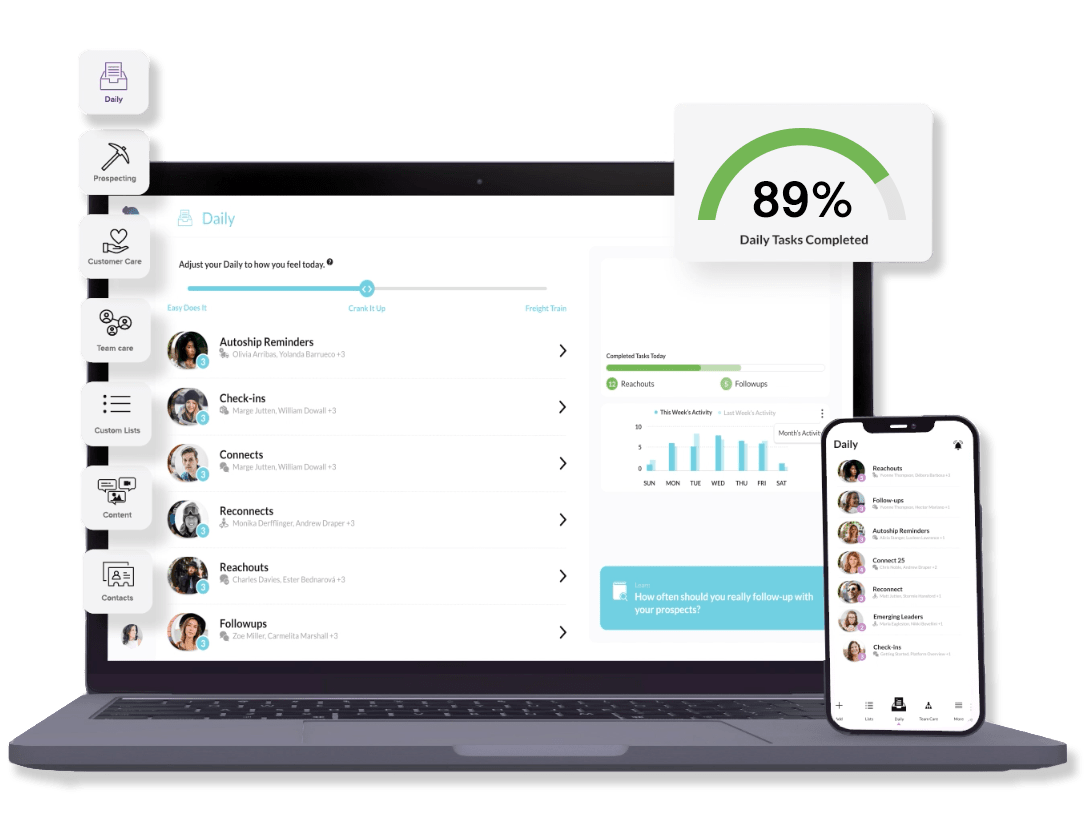 5 Opportunities Social Commerce presents for Social Selling
Social Commerce bridges the gap between social selling and transaction. The sellers spend hours building their businesses on social media, creating incredible content and connecting with people from around the world — but when it comes to the sale, it's still so hard to close. Social Commerce supports the end goal of sales. Done well, it makes it that much simpler for sellers to make the final sale after nurturing their relationships. 
Let's take a look at some other reasons why Social Commerce is a huge opportunity:  
1. The Financial Opportunity
The Statista Digital Market Outlook forecasts that by 2025, online shopping revenue in the U.S. will exceed 1.3 trillion dollars.
With e-commerce set to boom, it's only natural that social commerce will follow. To stay ahead of the game, companies need to invest in social commerce to not lose out to competitors leveraging the social commerce model. 
2. Empower the sellers already on social media
76% of sellers say that social media is in their top 3 sales streams*
67% of sellers use Instagram, 14% use TikTok*
94% of sellers use Facebook, making it the most used social media platform*
(For more stats check out 37 Numbers you Need to Know)
Most of the field is already selling on social media and as the next generation of sellers start, the percentages are likely to increase. As the field is already there, it's the perfect opportunity to maximize their ability to sell by introducing social commerce.
3. Opportunity to change how direct sales is perceived
Social Selling – The catalyst that's revolutionizing direct sales
How people buy is changing and direct sales organizations are at the forefront of this evolution. Having pioneered relationship selling and then social selling, direct sales organizations can turn social commerce into a major competitive advantage attracting new digitally-native sellers and harnessing the power of relationships at scale.
Globally, social media 'word of mouth' is becoming one of the major influencers on buying intent, shared economy and the attractiveness of multiple sources of income. Combined, these factors make direct sales an even more attractive career path than ever before. Taking advantage of this unique time for the direct sales industry will require an unwavering focus on social seller needs, transforming existing platforms and a commitment to creating an exceptional customer experience. Exciting times!
4. Delivering a truly easy and seamless transactional experience
Most shoppers search for information about a product by checking their social media profiles. If they're ready to purchase why not make it easy so they can purchase immediately?
5. Attract new generations
Gen Z And Millennials are more likely to make a purchase directly through social media. As Gen Z is already being cited as having a shorter attention span but quicker decision making, they will expect an instant transaction process without having to leave their social media account.