9 Trends Shaping Direct Sales in 2022
There's a lot in store for Direct Sales in 2022, the move to a digital-first innovation strategy is in full swing and it's impacting every area of the industry.
In the 2022 Direct Sales Trends Report we identified 5 key trends as the major opportunities for transformation - Reputation, Onboarding, Social Commerce, Continuous Learning & Development, Diversity.
We asked experts in each of these areas to give their unique take on why this trend is so important in 2022 and what opportunity it presents for the industry.
The Trends Shaping Direct Sales in 2022
Direct Sellers Need to be Learning while Doing
Lauren Mason Carris, VP Learning Design, Penny AI
Why Direct Sellers Need to Develop the Sales Skills for Success
Becky Launder, Co-Founder CEO, Modern Direct Seller + DirectFlo
Diversity - Essential to the future health of Network Marketing
Roxanne Wilson, Training Specialist, Penny AI
The Future of Onboarding is absolutely in AI onboarding solutions
Amy Villarreal, Sr. Director of Strategy and Implementation, Penny AI
An Incredible Opportunity for Disruption
Maria Osipova, CMO, Penny AI
The Direct Sales Industry has Changed for Good. But how do we keep this momentum going?
Penny Fitzgerald, Emerald Director, Traveling Vineyard
Social Selling -- the Catalyst that's Revolutionizing Direct Sales
David Abbey, CEO + Co-Founder, Penny AI

The Changing Social Media Landscape and Why it's Changing the Way we Work
Sara Cavallaro, CEO, HuddleUp
How E-Commerce is Opening up the Direct Sales Landscape
Jeremy Launder, Co-Founder + COO, Modern Direct Seller + DirectFlo


1. Lauren Mason Carris, VP Learning Design, Penny AI
Direct Sellers Need to be Learning while Doing
In order for learning to work, it must be effective, relevant, just enough, and just in time. These principles of learning are essential for adult learners and critical for any learner short on time and attention. Let's be honest, that's most of us. The rise of online learning was transformative in delivering accessible learning across time and geography, but the "always on" shift in our work culture and the blurring of boundaries between home and work pose evolving learning challenges. These learning challenges (effectiveness, relevance, just enough learning, and just in time learning) are especially significant for learners who are juggling multiple roles, multiple contexts, and multiple demands – cue new Direct Seller.
Learning in the flow of work with bite-sized learning relevant to the task at hand is the most effective way to enable learners to immediately apply new knowledge and skills and increase their performance. This can be accomplished with four leading practices: 1) anticipate learners needs by understanding what they do, 2) accelerate learning by bringing them into the flow of work (bonus for bringing them into the technologies learners are already using), 3) augment performance with actionable and relevant data, 4) empower and reward learners with meaningful recognition and encouragement (Deloitte, 2019).
2. Becky Launder, Co-Founder CEO, Modern Direct Seller + DirectFlo
Why Direct Sellers need to develop the sales skills for success
While so many direct sellers are focused on the buzz around social selling, attraction marketing and becoming the next influencer, it's a passive selling strategy and not actually getting results. For direct sellers to truly be successful in 2022, it is critical to refocus on fine tuning active selling strategies – by actually getting in front of new customers, building authentic relationships, having conversations and actually selling. The "post & pray" method doesn't work. Building a direct sales business in 2022 takes work and direct sellers need to develop the sales skills to be set up for success.
3. Roxanne Wilson, Training Specialist, Penny AI
Diversity & Inclusivity is not only imperative, it's essential to the health of the network marketing industry in 2022 and beyond.
The current landscape has put a microscope on network marketing and its deficiency in the area of opportunity for all people. With more network marketing companies and distributors on social media than ever before, it's impossible to ignore who is and who isn't in a company.
How can diversity happen? The belief that diversity comes organically from the field is officially antiquated. In order to truly create an environment that is welcoming and attractive to many cultures, it must be a two-pronged approach:
Ensure that diversity is a pillar in everything corporate touches, from the product, to the marketing and even to the faces in leadership.
Recruit, support, and develop teams that embody diversity.
2021 saw the beginning of this with new network marketing companies intentionally incorporating diversity by offering products that can be used by many, using diverse marketing on their websites and in social media, and recruiting seasoned leaders dedicated to building diverse teams.
Intentionality and focus on diversity as an industry ensures that network marketing remains relevant and continues to serve the world at large.
4. Amy Villarreal, Sr. Director of Strategy & Implementation, Penny AI
The future of onboarding is absolutely in
technology, AI-driven solutions.
We're hearing more and more from our corporate customers the pains they have with finding a better way to onboard direct sellers not just into a company, but also onto their teams. Both corporate direct sales companies and their leaders are struggling to find ways to efficiently and expeditiously onboard a new distributor to help them see value quickly. Gone are the days of just providing a PDF to your new distributors with a welcome packet, hoping they will see success. This is where technology enters!
Corporate teams have a lot to think about and leaders are just as busy building their customer-base as they are finding new sellers. From running new product promotions, to coaching the field on new incentives, and focusing on developing recognition and events that keep the field motivated, there are too many competing priorities. That's why finding a solution to onboarding that is simple, technology driven, proven to work and most importantly, easy to implement and adapt is the most critical solution to provide. At Penny, that is exactly what we're aiming to do and we're constantly thinking about how we can do it best. We're a team of problem solvers with a passion for helping direct sales companies find solutions that make them more efficient to help new distributors feel connected and successful from day one. The future in onboarding is absolutely in technology, AI-driven solutions.
Become the new generation of Direct Sales – Set your field up for success
The virtual assistant built for social selling success. 🚀
Meet Penny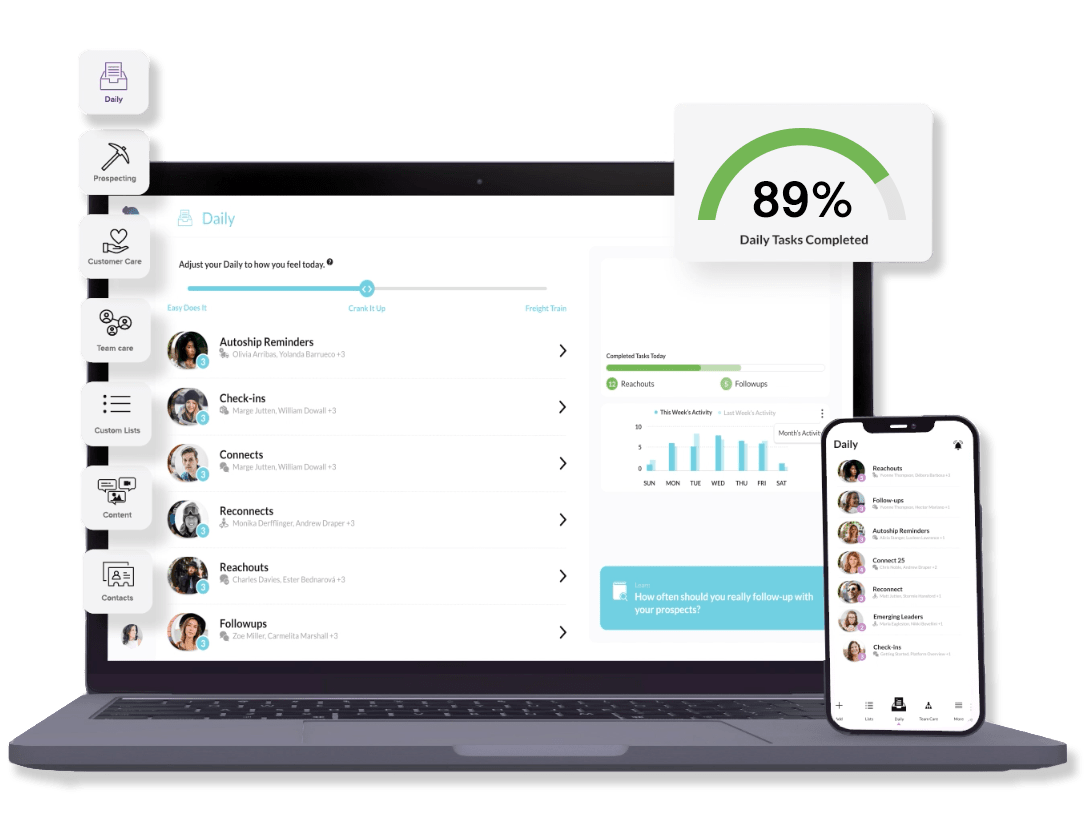 5. Maria Osipova, CMO, Penny AI
An Incredible Opportunity for Disruption
One's ability to succeed and grow a career is at the core of the negative beliefs about direct sales. What an opportunity for disruption — creating an industry that is known as a business master class for entrepreneurs, an academy for success in social sales, advocating for balance, family and wellbeing.
A new generation of direct sales organizations will train and grow their people so that they can work and succeed anywhere but treat them so well that they never want to leave.
6. Penny Fitzgerald, Emerald Director, Traveling Vineyard
The Direct Sales Industry has changed for good. But how do we keep this momentum going?
Our industry is so different than 2 years ago! And I don't see it going back to the way it was "before". Wine Guides (Consultants/Representatives of DS companies) and people in other industries want to find meaning in their work. They want to make a difference and they want to be seen and appreciated for those efforts.
I love that DS gives us an opportunity to find our passion and our purpose without limitations. It's all on US to use the tools our company provides for us and make an impact. Which is a double-edged sword, right? No one is going to tell you what to do on a daily basis or make you work. We're not "employees".
And that brings us to Penny. Penny AI guides us in making our daily tasks so we can focus on the tasks that matter the most. The connections with people.
Another big trend (threat/opportunity?) I see is in the supply chain. Our customers are experiencing and frustrated with shortages or the inability to find their favorite items in stores. We may experience delays or shortages of certain products as well. Where we differ from other product providers is that we have a personal connection with our customers. Penny allows us to stay in contact, build relationships, and provide customers with information or suggestions for products they may love, based on knowing them on a more personal level. That is certainly something Penny helps facilitate (and something you won't find at big box stores or websites)!
7. David Abbey, CEO + Co-founder, Penny AI
Social Selling – The catalyst that's revolutionizing direct sales
How people buy is changing and direct sales organizations are at the forefront of this evolution. Having pioneered relationship selling and then social selling, direct sales organizations can turn social commerce into a major competitive advantage attracting new digitally-native sellers and harnessing the power of relationships at scale.
Globally, social media 'word of mouth' is becoming one of the major influencers on buying intent, shared economy and the attractiveness of multiple sources of income. Combined, these factors make direct sales an even more attractive career path than ever before. Taking advantage of this unique time for the direct sales industry will require an unwavering focus on social seller needs, transforming existing platforms and a commitment to creating an exceptional customer experience. Exciting times!
8. Sara Cavallaro, CEO, HuddleUp
The changing social media landscape and why it's changing the way we work
The direct sales industry has put much emphasis on using social media to grow our businesses. And rightfully so, it's one the most powerful marketing tools ever.
The downside is many direct sellers now believe they can't achieve success without a large following. The result, instead of focusing on personal connections and daily activity, achieving "Influencer" status (driven by likes, follows, views, and more recently beating the algorithm) has become the primary business goal for many direct sellers.
However, throughout 2020 and 2021, the landscape of social media changed significantly. Not only has it become a negative, overwhelming space for many in our networks, we also realized we don't have control of it.
Social media companies make changes (i.e. to algorithms) or even have outages that can have huge, unwanted implications on our businesses. These recent challenges validated and accelerated a trend that started a few years ago and we'll continue to see in 2022 and beyond. Instead of relying solely on social media platforms for all aspects of our business, we'll see direct sellers:
Using social media to support marketing efforts with less emphasis on churning out content and more emphasis on producing value-add, customer-focused content that better serves their networks
Focusing more on personal connections and consistent activities that actually grow businesses
Seeking out and using better, dedicated tools and technologies built specifically to support direct sellers and their business needs
9. Jeremy Launder, Co-Founder & COO, Modern Direct Seller + DirectFlo
How e-commerce is opening up the direct sales landscape
We're seeing more and more e-commerce retail companies entering the direct sales industry. With the rising costs associated with paid advertising and failing affiliate programs, retailers are turning to direct sales. It's a low-risk, low-cost investment to quickly leverage a sales force of direct sellers to promote their brand to their friends, family and followers.
Many new direct sales companies are avoiding the MLM stigma and focused on building a single-level direct sales program, paying their sales force strictly on selling – not recruiting. This is opening up the direct sales landscape in a new and innovative way.
Discuss your plans with an expert
The virtual assistant built for social selling success. 🚀
Let's talk!