Level
Up!
Get Unstuck and Grow a Thriving Business with Deb Erickson
Get Unstuck and Grow a Thriving Business
How Your Mindset is Holding You Back From Reaching Your Goals
Take Control of your Mindset
LevelUP with Deb Erickson as she teaches you some simple neuroscience-based training tools to create shifts in your core beliefs, thoughts and behaviors, enabling you to overcome mindset blocks and habitual patterns that hinder your business success.
Learn how to:
Notice the early signs of behaviours that hinder your progress
Move past mental roadblocks
Use in-the-moment tools and techniques to banish self-doubt
Shift from fear to unstoppable confidence
Build an unshakable belief in your ability to build the life and business you've dreamed of
Hey, good morning, everyone, I'm so excited that you're here. My name is Deb Erickson, and today we are going to be talking about how to get unstuck in your network marketing or direct selling business. So what I want to help you do first is to uncover, are you stuck? So let me ask you a couple of quick questions. Are you frustrated? Does it feel like your business is growing oh, so slowly? Or maybe it's stuck or stalled, or just plain stagnant? Are you working? Are you struggling so hard and not moving forward the way you'd really like to do? Do you think about what you need to be doing. And then not do it? Do you make excuses? Do you resist? Do you avoid? Do you go into overwhelm? All right. If you said yes to any of that, you have a mindset block. And so today I want to walk you through four questions that are going to help you uncover, right? What is keeping you stuck? All right, here's question number one. First, ask yourself, do I know what I want and why I want it? See, when you have a goal, a vision, a target for the brain, then it can help you get where you want to go. And then when you add a compelling "why" you understand why at the core of your being the "why" that makes you cry. When you have that compelling "why" it gives your goal, passion and drive. So question number one, do you have a goal? You know what you want and why you want it? If so write it down. All right, here's question number two, do you know how to get there? Do you know specifically what you need to be doing every single day, week in, week out, month in, month out in order to achieve that goal? Yes or no? Do you have a plan? Do know the skill set, the strategies? The systems? Have you mastered your company's marketing strategies? Yes or no? All right. Now here's the question number three. And this is where we uncover the block. Are you doing it? Are you using the plan? Are you implementing on a daily basis the very things you know you need to be doing? Yes or no? Come on. Are you doing it? Are you doing enough of it? Here's the key guys. When you say yes, then we go to the next question is, are you getting the results you should be getting? But let's back it up for a minute. When you say: No, Deb. In all honesty, I know what I'm supposed to be doing, but I'm not doing it. I make excuses, I go into avoidance. I've got a lot of creative self-sabotage that keep me from it. See if that's the answer You're not doing what you've been trained to do. Then you, my friend, have a mindset block and that's what this series is about. I'm going to help you identify the blocks that are getting in your way in this five video series, and we are going to get you unstuck and moving again. My name is Deb Erickson, and I'm known as the leading authority throughout the world with network marketers and direct sellers around mindset management, right? Using neuro tools, brain training techniques to create this shift in your mind so that you can show up for your business. Got it! Good all right, I'll see you on the next training video.
Downloadable material
Suggested Articles
Deb Erickson
Deb Erickson is a Master Neuro Trainer, Creator of the ICAN Neuro System, and founder of The ICAN Institute Inc., a company dedicated to helping direct sales and network marketing entrepreneurs around the world free themselves from the mental and emotional limiters that hold them back from success - shifting them into confident, consistent action, increased income, and scalable business growth.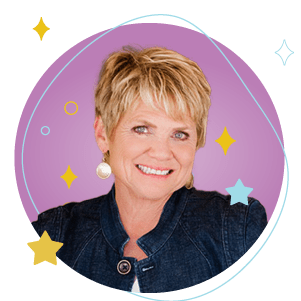 Next Lesson
Level
Up!
Other courses for you
LevelUP!
Sign up to get courses delivered straight to your inbox.
Every day we'll send you a new lesson hosted by an expert in their field. In just 2 minutes they'll give you a practical, takeaway tip on how to take your business to the next level.