Level
Up!
How to Choose the Right Company for YOU with JJ Birden
How to Choose the Right Company for YOU
Will the Compensation Plan Work for You?
Will the Compensation Plan Work for You?
In part 5 of JJ Birden's LevelUP course, he dives into the importance of doing proper research on your prospective company's compensation plan before you sign up. If you're starting a direct sales business, chances are you're doing it to earn some extra income so it's important to know what, how and when you'll be paid.
Know what questions to ask when you research:
The Company
The Owners
The Products
The Compensation Plan
Your Leader/Business Partner
The fourth point you want to look at is the compensation plan, because one of the reasons why you're considering this profession is you want to earn an income, whether it's a little bit or a lot, you want to be properly compensated. Now let me just tell you something: everyone will tell you they have the best compensation plan ever. It drives me crazy when people say that nobody knows who has the best compensation plan out there, there's thousands of direct selling companies out there. The key is you have to find the right compensation plan for you. Now there's different type of pay structures in our profession. I'm not going to talk about that, but I do want to just share some general points like, you know, you're definitely going to want to find out: What is the startup cost? What's the monthly requirement? Are there referral bonuses or getting started bonuses you can earn as you're growing your business, but definitely find out: What are the monthly commission percentages? What are the percentages you're paid in your organization and how far down does it go? Is it based on certain levels? Is it based on value? What are the limitations there? What about the volume that you're creating in your business from month to month? Does it flush out at the end of the month or can you bake it? Can you continue to accumulate and then spill over into the next line? What happens if one of your leaders that you're working with, that you're training, that you're supporting? They grow their business and they hit certain ranks? Do they break away from you or do you continue to be compensated based on a percentage of their business? And here's the big one. Ask them how many times the company has changed the base of their compensation plan, not the bonuses. I'm talking about the base of their plan because when a company is known for changing the base of their compensation plan more than once. That's not a good sign because when they do that, that usually hurts the field. The point is this, in our industry, many compensation plans are known to have what we call 'gotchas'. Gotchas! It's things that you don't find out about until you grow your business or certain rank or you hit a certain level. That's when you might be surprised by those gotchas. That's why you want to ask as many questions as you can so that again, you can choose the right compensation plan for you.
Downloadable material
Suggested Articles
JJ Birden
JJ Birden is a former NFL player, best-selling author, entrepreneur, motivational speaker, husband and father. As a Direct Sales Leader, he's shooting for the top and bringing his whole team with him. He's been married to his college sweetheart, Raina, for 30 years and has 8 children (3 biological and 5 adopted nieces and nephews). He and his family reside in the Phoenix area.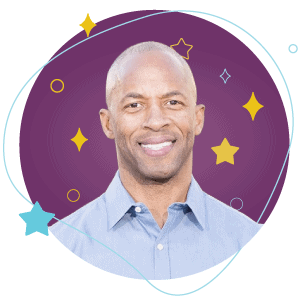 Next Lesson
Level
Up!
Other courses for you
LevelUP!
Sign up to get courses delivered straight to your inbox.
Every day we'll send you a new lesson hosted by an expert in their field. In just 2 minutes they'll give you a practical, takeaway tip on how to take your business to the next level.