Level
Up!
How to Choose the Right Company for YOU with JJ Birden
How to Choose the Right Company for YOU
Choose the Right Leader for You
Who is Going to Guide you through this Process?
In JJ Birden's 6th lesson he talks about choosing a leader/sponsor/business partner that is going to support you to achieve your goals. 
Know what questions to ask when you research:
The Company
The Owners
The Products
The Compensation Plan
Your Leader/Business Partner
So the fifth point, I would emphasize is who's going to be your sponsor, who's going to be your business partner, who's going to be your upline, the person that sponsors you into the company will have a direct effect on your success. And you want to make sure you choose the right partner. Now, I'm not saying you can't be successful with a bad sponsor because you can always go apply to the support team. But if you get this right the first time and you work in conjunction with them, you got a chance to knock it out of the park. So you're considering this. Make sure you ask questions. Find out about the person who may be sponsoring you. Have they developed any other teams, any other leaders? How many people do they sponsor a year? The average for leaders in our profession is 24, so two a month. That's a good indicator if they're active. The point is, you don't want someone who's in management mode who's just going to manage you and expects you to build their business. You're looking for someone who has that mentality that, hey, I'm going to build a business, whether you build it or not, I'm actually going to the top and I want you to go with me. But if you're not ready to go, that's OK, I'm going to build it anyway. That's the kind of business partner you want to work with.
Downloadable material
Suggested Articles
JJ Birden
JJ Birden is a former NFL player, best-selling author, entrepreneur, motivational speaker, husband and father. As a Direct Sales Leader, he's shooting for the top and bringing his whole team with him. He's been married to his college sweetheart, Raina, for 30 years and has 8 children (3 biological and 5 adopted nieces and nephews). He and his family reside in the Phoenix area.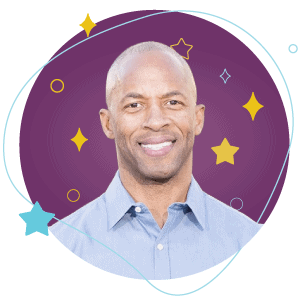 Next Lesson
Level
Up!
Other courses for you
LevelUP!
Sign up to get courses delivered straight to your inbox.
Every day we'll send you a new lesson hosted by an expert in their field. In just 2 minutes they'll give you a practical, takeaway tip on how to take your business to the next level.